At l'Unicorno boutique agriturismo on Lake Garda, ten charming rooms in our 1654 palazzo invite you to a holistic experience. In the midst of vineyards, organic fruit and olive trees, our guests enjoy a sustainable relationship between our own products, the original natural landscape, cultural history and the proximity to the exclusive Lake Garda.
Welcome to l'Unicorno Boutique Agriturismo on Lake Garda
Our boutique agriturismo l'Unicorno in Bedizzole on Lake Garda in Lombardy is named after the mythical unicorn. A white horse with a lion's tail, cloven hooves and a goat's beard. The unicorn's horn is reminiscent of the narwhal's horn, which was said to have healing powers. In the noble courts of the Middle Ages, the narwhal's horn was used as an antidote to neutralise poison. The unicorn is a symbol of wisdom and purity: only an impartial virgin could tame the untamable wild horse. These are the principles that inspire the philosophy of our house, where the guest can spend a relaxing holiday to strengthen body and mind.
Everything your heart desires and much more awaits you at the unique boutique agriturismo l'Unicorno.
Here at l'Unicorno, we live hospitality the Italian way. Fine food, our own wine and a fine Aquavite are as much a part of our guest experience as the style and culture of the Belle Époque. Experience unforgettable days at the highest level in our historic house. We invite you to discover our special offers and look forward to welcoming you soon as a guest at l'Unicorno Boutique-Agriturismo.
We have the right offer in every category, from the classic room to the Suite Royale.
All our rooms are stylishly furnished with attention to detail. Spend your nights with us behind historic walls dating back to 1654 and enjoy the ambience and style of the Italian past under the airy portico, in our osteria "la Chiocciola" with locally-typical food, our own wine or champagne.
For generations, we Italians have shared the passion of good food and, as born hosts, we take it out into the world.
Local, natural and healthy raw materials form the basis of our dishes. We like to use our natural products from our own garden or from farmers in the region in our cuisine. Enjoy one of our excellent wines from our own vineyard, our organic jams, our organic olive oil or our own brandy.
l'Unicorno Boutique-Agriturismo
The proximity to Lake Garda, local products of unique quality, culture and tradition, all this makes our place a unique gem, or l'Unicorno. With us, guests find peace in stylish surroundings. All of this must be preserved and nurtured so that our guests always leave with a smile. Nevertheless, time does not stand still with us, our agriturismo is a contemporary guesthouse in historical surroundings.
We look forward to your visit!
Corrado Becchetti & Gabriella Binkert Becchetti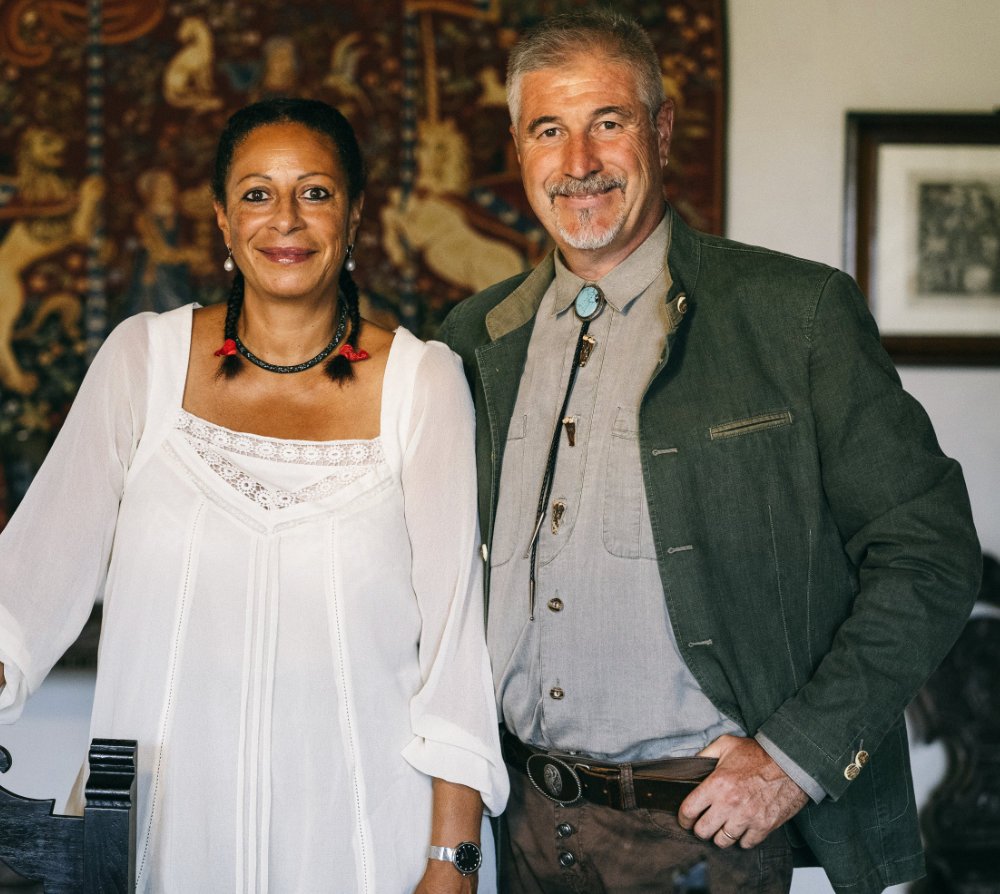 With us you will experience culture, history & Italianità at the highest level
Look forward to relaxing days full of style and pleasure
An experience for all the senses awaits you here at l'Unicorno boutique agriturismo. Good and healthy food in historic rooms. The natural surroundings, the green courtyard in Lombard style and the proximity to Lake Garda, all this distinguishes our l'Unicorno. We are, in the truest sense of the word, a unicorn that is hidden away and only opens up to curious and imaginative people. You are lucky to have found us. Look forward to pure relaxation for mind & soul, we look forward to your visit.